Online Laughter Yoga
Online Laughter Yoga?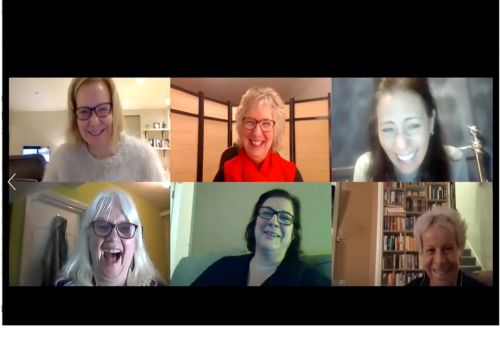 Laughter yoga is a unique concept where people laugh without the need for humour, jokes or comedy. We initiate laughter as an exercise in a group online, and with eye contact and childlike playfulness it soon becomes real and infectious.
LY combines laughter exercises with yoga breathing and meditation. It's a scientific fact that your body and mind cannot differentiate between real and fake laughter if it's "done with willingness."
Natural laughter only lasts 3-4 seconds at a time, so LY as an exercise fulfils the need for 10-15 minutes sustained, deep, hearty and unconditional laughter for health benefits.
Last year, a rather daring coach asked me why I hadn't taken my Laughter Yoga online, and having given it a lot of thougt and experimentation it is happening!! You can book here!
This is how it works:
You book online to join the session at 7pm on the third Monday of each month. Numbers are strictly limited to 10 screens. However, if there are two or more of you attending together from the same venue, you will only count as one screen because you will be interacting with one another as well as the group.
You will be sent a Zoom link to join the session.
At 7pm promptly I will start to introduce the session and explain how it will be conducted. You will need to be prepared for the session - make sure you have water available too.
There are 3 parts to each session.
Laughter Yoga. You will need to be able to see your screen and access your microphone. You may prefer to do some of the exercises standing up, so be prepared for this.
Laughter Meditation. You'll be seated or lying down for this part which lasts just a few minutes.
Hypnotic Happiness Meditation. Again,you can either be seated or lying down - this is the relaxation part and will be done with your mic muted.
Here's what people say about Karen's Laughter Yoga.
"Karen's laughter yoga session at Rich, Hot and Spiritual conference was definitely a highlight of the day. Karen's slot was just after lunch, always the most challenging time to get delegate involvement. I found the session liberating, fun and motivating. You could feel the energy in the room increasing with every minute, and the power of forming connections in an unusual way with other delegates felt positive and inspiring. Having reflected on the session I definitely see the value of working with Karen during a team building day or with groups where stress and wellbeing are a current issue." Jan Gould - Employment Psychologist
"I was delighted when Karen agreed to take my clients through a Laughter Yoga session. As a Happiness Coach, Clinical Hypnotherapist and Laugher Yoga Coach, Karen was fantastic at raising the energy in the room and taking everyone through their paces. Her enthusiasm is infectious, coupled with a very clear structure, she quickly got everyone involved in the process. Karen is a very skilled facilitator and I felt we were in safe hands which is important when you have over 40 high-level clients in the room. I cannot recommend Karen highly enough and will definitely be using her services again." Carole Bozkurt -Client Attraction Strategist & Business Mentor